ITALIANO
ENGLISH
Renato Mite
So you want to know who I am, don't you?
I believe in the phrase "you do what you are" from the movie "Along came a spider" (based on the homonymous book by James Patterson), here it is my answer: I write and I want to make of writing my craft.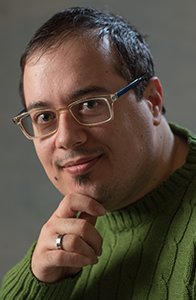 Writer and reader get lost in a story to explore a world in which they believe with all their imagination and this makes it real. That world is a part of us and we cannot live without it.
I write fiction in many genres, both short stories and novels, with the pseudonym Renato Mite.
I wanted a typewriter already when I was seven years old, at age of ten I received a marvelous green typewriter Olivetti Lettera 32 as a gift from my parents.
Among the first short stories I wrote, there are some that it is worth to read and they are here in the series "Old Stories".
I have got a passion for science and informatics, in 2013 I published my first novel: "Apoptosis", a sci-fi thriller in which a hacker investigates the secrets of a new medical diagnosis method that is very suspicious.
I am fond of classic detective stories, I admire Arthur Conan Doyle and Agatha Christie. I hope one day to contrive a classic detective story, meantime I tried my hand with a particular detective story in my second novel "Aporia".
While I am thinking up ideas for other novels, I keep writing short stories because I cannot help it.
For my more demanding readers, I created the mailing list Peeking Readers. The subscribers receive disclosures on the stories I am writing and I thank them for their support with reserved stories.
If you want to know more about me and my stories, look at the Press Kit.
If you want to start reading, go to the section Works and to the Reader.
Enjoy the reading!